Grammar students recipients of Spirit of ANZAC Prize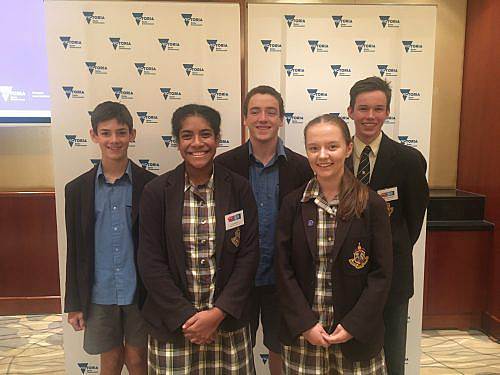 —-Monday 5 February 2018—-
Five Year 10 Ballarat Grammar students were announced today as recipients in the 2018 Spirit of ANZAC Prize, awarded by the Vic Government Department of Premier & Cabinet.
Jacinda Luttrell and Noah Esmonde are the recipients of an overseas study tour including Singapore, taking place in their Term 1 holidays.
Jeremy Aked, Una Nawai and Adam Van Donk are recipients of a regional study tour to Canberra taking place in the Term 2 holidays
As part of the Year 9 program at BG in 2017, each student responded to a prompt based on Australia's military history, researched extensively and produced an original interpretation of their topic. All students were then encouraged to enter their work into the competition. Seven Grammar students were of 40 that were selected from thousands of entries across the state to showcase their work and attend a group interview.
The Premier's Spirit of Anzac Prize provides 22 students with the opportunity to participate in an overseas study tour to sites where Australians have served in times of war and peacekeeping. In addition, 20 finalists will visit Canberra and be invited to attend the Premier's ANZAC Day Luncheon.
Congratulations to Jacinda, Noah, Jeremy, Una and Adam – this will be an incredible experience and we look forward to the learning you will bring back to Grammar to share with your peers and teachers.