BG student works on display at the Ballarat Art Gallery
20 Ballarat Grammar Art and Design students have their 2017 VCE work exhibited at Next Gen 2018, currently on display at the Art Gallery of Ballarat.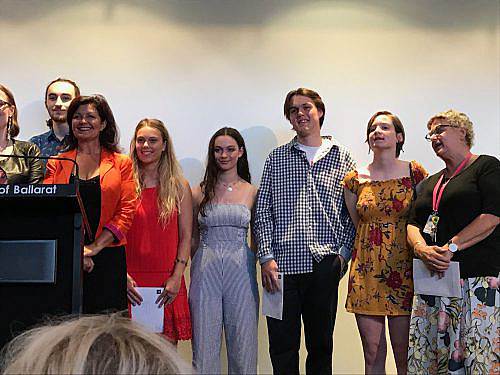 Congratulations to the following students: Amelia Dunn, Nicholas Collins, Sunny Yuan, Andrew Jackson, Johnathon Saxton, Nick Gilbert, Deaglan Kennedy, Zoe Bardsley, Isabel Merrylees, Hattie Macdonald, Amanda Clough, Olivia Delahunty, Olivia Corboy, Alice Laracy, Isabella Conheady, Louis Condous, D'Arcy Riethoff, Laura Taylor, Madeline Rodgers, and  Nell Blake.
Amongst the awards presented at the opening last Friday night, Isabel Merrylees won the the Arts and Culture City of Ballarat 2-D award and D'Arcy Riethoff won the Federation University Arts Academy Award for Multi-Media (Isabel and D'Arcy receiving their awards pictured to right).
Next Gen 2018 showcases the work of students from government, Catholic and Independent schools, mainly from the Ballarat and Grampians region who have just completed VCE studies in Art, Studio Arts, Design and Technology, Visual Communication and Design and Media.
The Art Gallery of Ballarat has been exhibiting some of the best work produced by students from across the western Victorian region for twenty years. Next Gen 2018 continues to be an important part of the Gallery's exhibition program and both provides industry training to its participants, acts as an inspiring introduction to VCE art for current students, and gives gallery visitors insights into the world of young people today. The exhibit runs from 10 Feb to 12 March 2018.
Art Gallery of Ballarat Next Gen 2018