2007 OG Ellen Burns and her health food bar business 'We Bar None"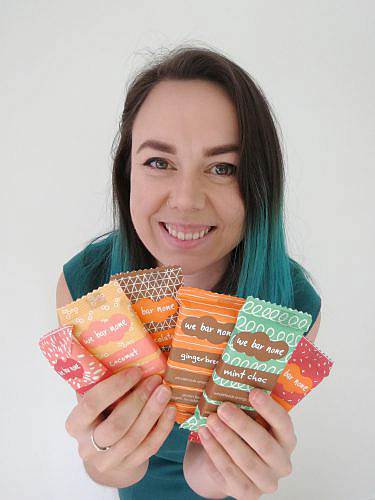 A conversation with Ellen Burns, Old Grammarian ('07) who has started her own health bar business in Ballarat, 'We Bar None'. Along with many other career professionals, universities, colleges and businesses, Ellen will be available in the careers area of the Ballarat Careers Expo at Ballarat Grammar, 6pm Monday 20 August, to chat about entrepreneurship and starting your own business! Bravo, Ellen!
What has been your study/career/work journey since leaving school?
Straight after secondary school at Ballarat Grammar I moved to Melbourne and completed a double degree in Arts and Visual Arts at Monash University. During this time I continued working casually at Coles.
After Uni I worked as a Goods Inwards clerk for MPM, a food packaging company. I actually started out there as an invoicer but was promoted very quickly. I really enjoyed that job but left to move overseas and have a working holiday in Canada for a year, where I worked in Payroll position.
After returning home, I got a job at ANZ as a bank teller and also got into an unpaid internship at an online magazine at the same time, working on their social media and editing. That combo meant working 6 days a week for a year which left me really burnt out!
I left ANZ to make a go of my business full time!
What made you think about starting a business and what are you enjoying about it?
I've always loved thinking up business ideas, ever since I was a kid. When I was studying at Grammar, I started a business with my best friend Kate and we sold earrings and brownies at school! It's always been in my nature, I'm a born leader and possess a mixture of creativity and practicality.
The idea for We Bar None came when I was living in Canada; they had so many amazing healthy convenience foods over there at a time where we really had none.
I decided to quit my other jobs and focus on my business because I was really burnt out and tired of working really hard on things that I wasn't passionate about. I wanted to have the flexibility to be able to be there for every family and social event. Running a business is so much hard work and I can often be working 6 or 7 days a week but I can manage my time so that I can fit in the important things.
How hard/easy was it at the beginning?
Starting a business is so hard, especially when it's your first time. There is so much to learn, you don't even know what you don't know, so it's really slow at the start. Creating anything new is a bit of a snowball effect, you get more interest as more people find out about you and sales really build from word of mouth. It's intimidating to put yourself out there and back yourself, but it's so rewarding.
What are the things/people that helped you most along the way?
Initially, it was being accepted into the NEIS program. The government offer a free Certificate 3 in Micro-business Operations and Newstart-like payments for 9 months to help get you up and running.
My mum has been the other crucial support. I moved back home with her rent-free and got her kitchen registered so I didn't have to keep renting commercial kitchen space. Paying rent in the early stages of my business would have been difficult so that was crucial. I cook dinner and pull my weight around the house, we're both actually really happy with the arrangement. She's said she's going to miss me a lot when I move out, though I'm sure she won't mind getting her dining room back, which is currently full of my equipment and boxes!
Michael, my partner, has also been a massive support. He's a bit of a hobby handy man so has made some of my display equipment. He's helped me out at festivals and expos. Most importantly he's a sounding board for all my ideas and excellent taste tester, as is my mum!
I've had so much help from so many people, the list really goes on. I may be a sole trader but you're never really alone in business. I couldn't do it without my family and friends, my stockists and market colleagues and regular customers!
How do you feel your education at school helped you on your entrepreneurial journey?
My business may seem unrelated to my study at Ballarat Grammar and school, but it's really all intertwined. I studied a lot of English and Art and that's helped me in being able to write all my own copy, press releases, even emails; all communication is crucial. I do almost all of my own photography and did the graphic design for my early packaging. Maths is obviously always important, you don't want to be using a calculator to work out everyone's change. One of the most important skills I learnt at school was the ability to get along with a wide range of people. You don't choose who you are around in school, from students to parents and teachers. It's an important skill to be able to connect with people of all ages and personalities. You can't be self-absorbed as a business owner, it's not really about you.
What are you enjoying about running your business in Ballarat?
When I first started my business, I was living in Melbourne. I would take my products around to stores but no one wanted to take a chance on such a young business. I moved back to Ballarat to be closer to family and discovered that people here have a very different attitude. Ballarat people, customers and business-owners alike, want to support local business. I couldn't believe the difference in attitude. People here really care.
I've recently stopped hand-making my energy bars, they are now contact manufactured by Springhill Farm in Delacombe. I was so excited to be able to work with a local family-owned business and they're equally excited to have a local client.
The buzz around the Ballarat food scene at the moment is electric, it's a really exciting time.
Would you recommend entrepreneurship as a career?
I would definitely recommend that people start their own business if that's something they feel passionate about. You have to be willing to work really hard for very little pay off for a while. If you think that entrepreneurship is a get rich quick scheme then it's not for you! But if you want to create something new, and have flexibility and power over your own life, go for it!
I didn't study business because when I thought about "business" I thought about guys in suits around a boardroom table. I thought about charts and KPIs and questionable morals. Now I am surrounded by women absolutely 'killing it' in business and doing so with the morals that I share, focus on health, wellness, local and eco. The business world is changing and no one should feel like they don't belong.
Support Ellen's business, and for more information:
www.webarnone.com.au
Instagram: @webarnone
Facebook: https://www.facebook.com/WeBarNone