Co-Curricular Music Program
We foster musicianship through core curriculum and elective classes.
Music is a special part of the School's fabric.
All students are encouraged to pursue their love of music whether it be through taking lessons in instrumental, voice, music theory or speech art or participating as a member of a band, ensemble or choir.
Curriculum
Classroom Music is an essential part of the curriculum from the CEEd to Year 7. We offer special programs at Years 2 and 7 and from Year 8 students choose from an exciting range of elective subjects.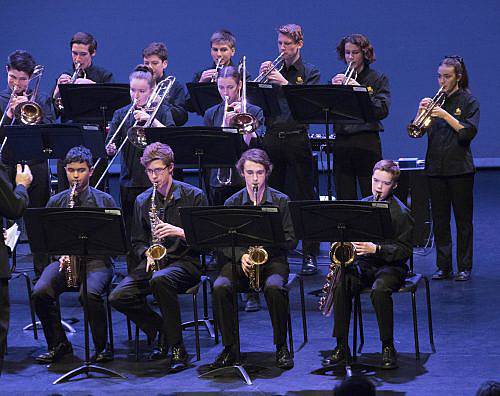 Year 2 String Program: All students in Year 2 study violin, viola or cello
Year 7 Instrumental Music Program (IMP): All students choose to study a string, woodwind, brass or percussion instrument within the curriculum that they have not previously studied, culminating in two concerts during the year where every student performs
Years 8, 9 and 10: Students explore technology in music, film music, composition and performance
Years 10, 11 and 12: Students can choose VCE Music Performance (Solo and Group), VCE Music Styles and Composition, and VCE VET Music Certificate III in Technical Production or Performance
Private Tuition
Students can choose to learn from over 20 instruments (including voice and speech art) in solo or small group lessons. They are encouraged and supported to take external exams.
Performance Opportunities
We pride ourselves on the depth and variety of performance opportunities we offer our students. We have a huge number of bands and ensembles that, directed by a specialist with their own expertise, perform regularly at school and community events, showcasing the skills and talents of our musicians.
Senior School Production: All students from Years 7 to 12 are encouraged to participate in this collaborative venture between our Music, Drama and Dance departments
Junior School Production: All students from Prep to Year 6 perform on the big stage
Ensembles: Including String and Symphony Orchestras, String Quartet, Junior and Senior Choirs, Chamber Choir, Concert Bands, Stage Bands, Bagpipes and Drums Ensemble, Wind Quintet as well as ensembles in Saxophone, Clarinet, Guitar, Bluegrass, Percussion, Recorder and Harp and student-directed Chamber Groups
Concerts and festivals: Including Grammar in Concert and Junior School Gala
External competitions: Including Royal South Street Eisteddfod and regional eisteddfods
House Choral Competition: All students from Years 7 to 12 collaborate on and perform in this popular event
School and community events: Including performing at the Ballarat Specialist School, Springfest and House Athletics Day
Tours: Regular regional, interstate or international tours such as the Chamber Choir Tour
Camps: Annual camps for various bands and ensembles
Annual Victorian School Music Festival: A wonderful opportunity for our students to get feedback on their performance
Backstage and technical support: A wide range of opportunities for students interested in backstage, lighting, sound and technical support
The Music School enjoys wonderful support from the whole school community.
Scholarship Opportunities
We are committed to supporting outstanding young people with a passion for learning a musical instrument. We welcome interest for a number of scholarships from students who demonstrate the qualities, potential and leadership to make a significant contribution to the School in the broadest sense and to our Music Program specifically. Learn more about scholarship options at Grammar.
Specialist Teachers
We have a faculty of more than 25 experienced teachers who are specialists in a wide range of classical and contemporary music. Our students are also regularly engaged, challenged and inspired by visiting artists and musicians-in-residence through master classes and workshops.
Parent Involvement
Parents and friends are warmly encouraged to support the Music School and our students through the Friends of Music Support Group.