Years 10, 11 & 12
There is a noticeable sense of integrity and honesty among our senior students and respectful relationships with staff and other students are a hallmark.
The School's strategic focus on the education of the whole person is highly valued by staff, parents and students. We want our students to dream big, to aspire to academic excellence and to strive to be the best they can be in all areas of their learning.
Wellbeing in the Senior School
All of our teaching and learning conversations focus around the wellbeing of the child.
Wellbeing underpins our interactions, our teaching and learning framework, every interaction and everything we do at Grammar. We constantly cross-check student wellbeing and academic progress against the PERMA Model of Wellbeing.
At Year 10 our specific focus is on helping our students to develop resilience through exploring courage and persistence in learning and life. At Year 11 our focus is on helping students to develop responsibility by learning to lead with independence, creativity and curiosity. At Year 12 our focus is on helping students to develop resolve through fostering academic tenacity and hardiness and setting SMART goals. We teach these themes explicitly through our Positive Education Program and House Mentor System. 
Curriculum
Pathways
We want our Year 12 students to leave a positive legacy.
A significant feature of our curriculum is the opportunity for students to tailor their learning programs through a number of VCE pathways. They can also pursue an alternative pathway through the VCE Vocational Educational and Training (VET) Program.
Year 10
At Year 10 we encourage students to broaden their focus and consider life and learning beyond formal schooling. While strong emphasis is placed on preparation for further studies, students are encouraged to pursue courses of study they enjoy. Students learn more about their strengths and interests and continue to develop the skills and attitudes essential for life as 21st Century learners. Elective subject choices are very broad and cater for a diverse range of interests and skills. Students can choose some VCE subjects and (consultation is required before selecting these options).
Year 10 students are also required to participate in a range of compulsory co-curricular opportunities in keeping with our commitment to embracing the Round Square philosophy. 
Core Subjects
English
History
Janus (study skills and career planning)
Mathematics
Physical Education
Religion, Philosophy and Ethics
Science
Elective Subjects
Agriculture and Horticulture
VET Agricultural Studies
Art
Biology
Business Studies
Chinese
Commerce
Computer-Aided Design (CAD) and Computer-Aided Manufacturing (CAM)
Dance
French
Games Development
Global Studies
Healthy Insights
Latin
Literature
Media and Journalism
Music
Product Design
Psychology
Sports Science
Systems Technology
Theatre Studies
Visual Communication and Design
VCE Units 1 and 2 Subjects that are offered in Year 10 for 2019
Biology Units 1 – 2
Dance Units 1 – 2
History Units 1 – 2
Music Performance Units 1 – 2
Music Style and Composition Units 1 – 2
Physical Education Units 1 – 2
VET – Sport and Recreation (Cert III)
Studio Arts Units 1 – 2: Ceramics, Painting and Drawing, Printmaking, Textiles
Theatre Studies Units 1 – 2
Psychology Units 1 – 2
Students may elect to study a language through Distance Education with the Victorian School of Languages (consultation is required before enrolling in any external study)
Senior High School Curriculum Guide
We are committed to providing a broad curriculum at VCE to suit the abilities, interests and needs of all students. We offer one of the most comprehensive range of VCE subject choices in non-metropolitan Victoria, currently 37 subjects as diverse as Philosophy, Music Technical Production, Chemistry and Psychology.
Special features
Agriculture
Grammar students have achieved 38 Premiers Awards in VCE 'Ag' since 2000.
We have achieved incredible success in VCE Agricultural and Horticultural Studies and this subject is particularly popular with our regional students. From 2016 students have been able to take Cert II Agriculture via the VCE VET pathway.
Three LOTE Choices
Embracing the Round Square IDEAL of 'International' our LOTE offering is extremely generous with students able to choose Chinese, French, and/or Latin.
VCE subjects offered in 2019
Year 11 (Units 1-2)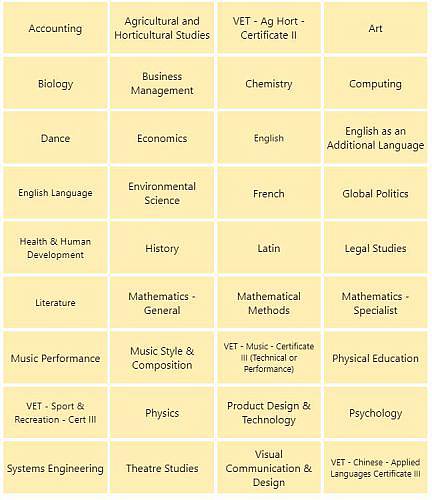 Year 11 (Units 3-4)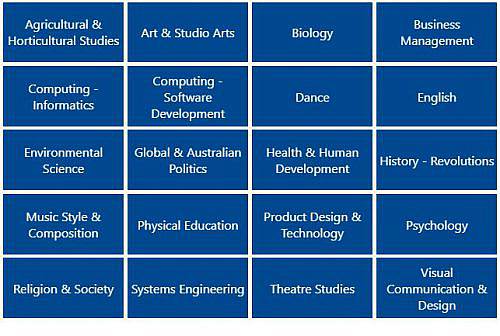 Year 12  (Units 3-4)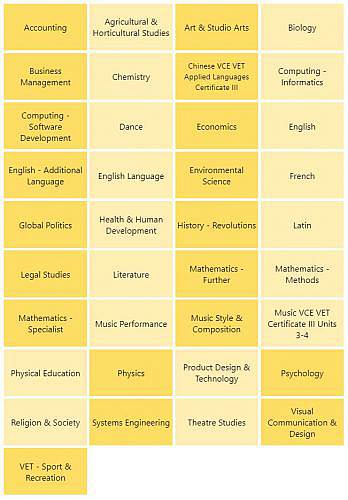 Support
We provide structured support in a wide range of areas including scheduled supervised study periods for students in Years 11 and 12, VCE Transition Week, a VCE Revision Lectures Series, the Year 12 Leadership Program and the TAC Fit to Drive Program.
Careers Support
An education at Grammar prepares students for a wide range of career opportunities. While the majority of students continue their studies at leading Victorian, interstate and overseas universities, others follow exciting pathways through TAFE, apprenticeships and employment.
Our team of qualified Careers Practitioners provides a full-time accessible resource at school for our senior students and their parents.
Students can access personalised help on everything from subject selection to pathway options and explore a wide range of possibilities. Our team stays up to date with everything from scholarship opportunities to Early Entry Programs to prerequisites for courses and applications for residential colleges. We have developed close relationships with universities and residential colleges in Melbourne, Adelaide, Sydney and New Zealand. As active members of the Ballarat Careers Education Network and Careers Education Association of Victoria we stay up to date with the latest information. Our students and parents have easy access to our extensive resources available on the portal and in the recently established Parents and Friends Careers Centre where we regularly host guest speakers on a range of topics. Ballarat Grammar also co-hosts the annual Ballarat Careers Expo, a very popular event open to the whole Ballarat community.
Year 10: All students learn study skills and career planning as part of their core curriculum, covering everything from resumes and job applications to mock job interviews with local business people to guest speakers from the business and tertiary sectors – there is also a structured Work Experience Program
Year 11: Students receive one-on-one subject selection, course and pathway guidance. Information sessions and the Work Experience Program in November offer students the opportunity to further investigate future pathways
Year 12: Every Year 12 student has at least one appointment with one of our qualified Careers Practitioners to develop their personalised Future Pathways Plan
Alumni: We provide ongoing support for our alumni
Academic Mentoring
This tailored program provides extra academic support to students in Years 11 and 12 who need it. A special feature of this highly successful program is that, in collaboration with their House Mentor, students work with a senior member staff at regular intervals and their academic progress is closely tracked. 
Round Square
Engagement in our structured Round Square Program is considered of the highest importance for students in Years 10, 11 and 12 and students are encouraged to make the most of an incredible range of opportunities linked to each of the six of Round Square IDEALS of Learning: Internationalism, Democracy, Environmentalism, Adventure, Leadership and Service.
Service
Service at Grammar supports our focus on developing the whole person and links closely with our Positive Education Program and Round Square Program.
Leadership
At Grammar, 'Leadership is Service'.
At Grammar we believe in leadership as service or action rather than position and as teamwork rather than a solo activity. Our students are expected to become involved in all areas of school life from academic to Round Square to Service to House to co-curricular – collectively these are designed to help students to understand their obligation to community, to develop social competence, to build a capacity for authentic leadership and to develop genuine compassion for others.
There are a large number of formal leadership roles as well as informal leadership opportunities for students in Year 12. Formal leadership roles carry significant responsibility and students who accept these roles make a commitment to be fully involved in the positive life of the School and to adhere to high expectations in their actions and interactions.
Formal leadership development opportunities are offered to all Year 11 students.
Students begin their transition into some formal leadership and informal roles from mid-way through Year 11 and students in Year 10 can also start to take on informal roles.
Technology
Personal Notebook Program
We seek to provide the best available tools for our students and all students are issued with a touch screen laptop that will serve them through until the end of VCE for any VCE subject they choose, including those with high level technical needs.
Technology supporting teaching and learning
Teachers and students in the Senior School use our Learning Management System Nexus (Schoolbox). It is developed for sharing ideas, creating content, assessment and communication. Wi-fi access extends right across the campus, including the farm campus at Mount Rowan supporting learning for students studying Agriculture.