27 May 2022
Old Grammarian story: Casey McDonald (Byron, 2002)
An interest in space and aviation leads to a career in the Defence Force for this Old Grammarian.
Casey McDonald (nee Byron) is currently a Project Manager at Boeing Defence Australia and was our guest speaker at our recent ANZAC Memorial Service.
Prior to her time at Boeing, Casey completed 10 years of service as an Air Combat Officer with the Royal Australian Air Force, including three deployments to the Middle East. Casey shared some insights from her time with the RAAF, the incredible honour she felt to serve her country and how these experiences shaped the person she is today.
We asked Casey a few questions about her career and her Grammar memories.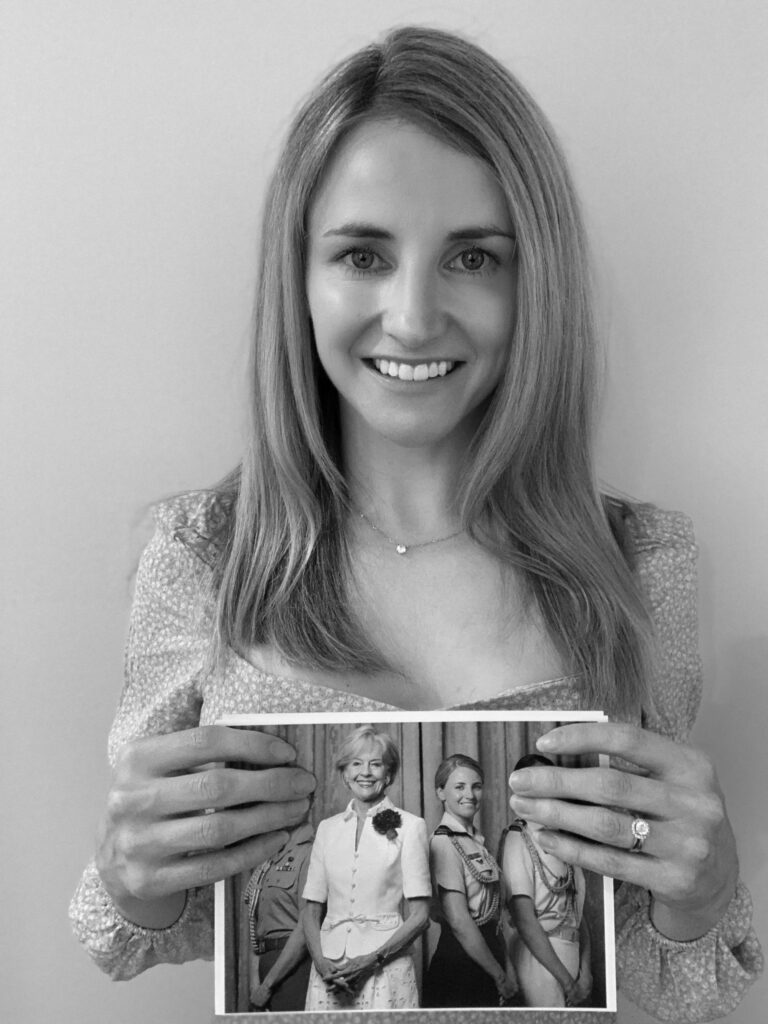 Tell us about your time at Grammar.
My time at Grammar was a positive and exciting experience for my whole family. The lasting friendships, networking opportunities, access to a higher level of education and sporting competition… but mostly it was the camaraderie between the Houses. Friends who became your family and support through some of the hardest years in your academic life. Banding together for war cries at Head of the Lake, swimming and athletics carnivals will forever stir a deep feeling of pride for the brown, blue and gold.
Touch Football, Hockey, Athletics and Cross Country were some of my favourite activities during the year.
What ignited your passion for your career choice?
Growing up on a sheep and grain farm in the Wimmera-Mallee, I was always attracted to a structured and disciplined way of life. And combined with a deep interest in aviation and space, a career in the Royal Australian Air Force seemed very fitting.
Can you share some key defining moments in your career/life?
Graduating from the Australian Defence Force Academy with a Bachelor of Science, majoring in Physics; graduating from the School of Air Battle Management as an Air Combat Officer; deploying to and controlling the Afghanistan battlespace as a Weapons Director in support of Operation Enduring Freedom; and becoming the first of three female Aide-de-Camps to the 25th Governor-General of Australia, Dame Quentin Bryce AD CVO.

How did Ballarat Grammar prepare you for your career? Did Ballarat Grammar or the wider community assist you in your studies or advancing your career?
Becoming a boarder and attending Grammar in my senior schooling years, I developed a greater level of independence, leadership and emotional maturity that equipped me to be able to deal with some of the most mentally, physically and emotionally demanding years of my early career.
What are your future career goals/aspirations?
Having completed 10 years in the ADF and coming up 8 years with Boeing in the Defence industry, I next plan to expand my project management skills in the rail or building and construction industry.
What advice would you give to current students or recent leavers?
Always put your hand up and say yes before you think no, even for the little jobs, but especially for the challenging ones. Lean in, keep your head down, and get the job done.
We would like to thank Casey for sharing her fascinating career path and memories of Ballarat Grammar with us.

To share your story or if you know an Old Grammarian who has an interesting career or achievement please email development@bgs.vic.edu.au