7 Mar 2023
Old Grammarian story: Dr Melanie Matthews (2002)
A family move to the Northern Territory allowed this Old Grammarian to experience medicine in remote aboriginal communities.
Melanie Matthews is a Rural Generalist, a rural GP working in remote Australia for an Aboriginal Community Controlled Health Organisation. She has been working in the Northern Territory for over 8 years and is truly passionate about remote Aboriginal and Torres Strait Islander medicine.
When her parents moved to the Northern Territory, Melanie stayed in Ballarat to complete her schooling at Ballarat Grammar and visited her family during the holidays. Her love of biology and science and her experience in remote communities led to her passion to study medicine.
We asked Melanie a few questions about her career and her Grammar memories.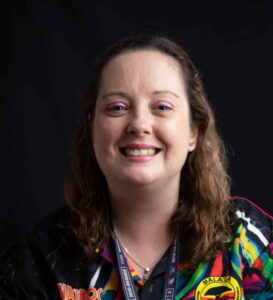 Tell us about your time at Grammar.
I enjoyed the different opportunities that were presented to me across the board.  I was able to push myself academically, but I also had some great experiences studying history, film, English literature, and a fun puzzle class in Year 9 (that I can't remember the name of now!).  I was given the opportunity to live overseas in England on exchange for five months through the Round Square program, which was formative in developing my independence and also discovering my love of biology and, subsequently, medicine.  I also had a musical outlet that was fun and challenged me in different ways.  We also had a lot of fun social events throughout the year (who can forget any of our Boat Race balls!), and I had so many amazing friends who are still in my life today.
I was heavily involved in music at Ballarat Grammar – I played the violin in the orchestra in my early years and then percussion later. I was also involved in a percussion group in Year 12 that performed at Speech night, many performances, Eisteddfods, speech nights, and a music tour of Tasmania in early 2002.
What ignited your passion for your career choice?
I remember watching the TV show ER as a young kid and deciding I wanted to be a doctor.  Then I think I watched The Practice and decided to be a lawyer!  However, whilst on exchange in England, I re-discovered my love of science, particularly biology.  When I returned to Ballarat Grammar for Year 11, I had chosen mainly math and economics subjects but within 2 weeks, I had swapped over to biology, and that's when my career trajectory was cemented. My biology teacher Mrs Squire was tough but made biology fun and engaging and pushed me to be my best.  I credit her with a large part of my decision to become a doctor.
Can you share some key defining moments in your career/life?
My parents moved to the Northern Territory when I was about to start Year 12.  I ended up staying at Ballarat Grammar to finish out my school years, but I visited them every school holidays and then during university breaks.  This allowed me to experience medicine in remote Aboriginal communities, and there began my passion for this field of medicine I ultimately ended up in.  I can't imagine that I would be working where I am now if they hadn't made that move.  I was also given the opportunity to work and experience remote medicine in the NT through a scholarship at university and also as a junior doctor for three months, which allowed me to make a conscious decision that this was the medical arena in which I wanted to work.
How did Ballarat Grammar prepare you for your career?
Academically, Ballarat Grammar provided me with the skills, commitment, and drive to pursue my career dreams.  I had some wonderful, committed teachers who pushed me but made learning interesting and fun.  However, I was also given the opportunity to pursue other interests and hobbies, i.e., in music, which is essential to allow for study/work-life balance and a well-rounded existence.  The independence and experience I had whilst on the exchange were invaluable in developing my personality and ability to meet new people.
What are your future career goals/aspirations?
My passion is to remain in remote Aboriginal and Torres Strait Islander medicine.  I have a commitment to providing excellent primary health care to some of the most disadvantaged communities in our country.  The breadth of medicine is astounding and so interesting, and being welcomed into a community and involved in some of the oldest cultural practices on earth is truly a privilege.  I would like to pursue a Master of Public Health to develop my skills even more to facilitate change in the social determinants of health for the population of the people I work with.
What advice would you give to current students or recent leavers?
I like to tell people to think outside the box.  Try new experiences, grab all new opportunities with two hands and do things you wouldn't expect to.  I would never have imagined I would be living and working remotely, but I am so glad I took the opportunities given to me, and I am where I am today.
To share your story or if you know an Old Grammarian who has an interesting career or achievement, please email development@bgs.vic.edu.au