19 Aug 2022
Old Grammarian story: Sam Bromley-Lynch (2011)
With a passion for sport and a creative mind, this Old Grammarian is living his dream of working as a sport producer.
Sam started at Ballarat Grammar in Kindergarten with his twin brother Josh. After graduating in 2011, Sam went on to study a Bachelor of Communication and Media Studies at La Trobe University. He is now working as a freelancer for TLA Worldwide working with the likes of Foxtel and others, with the Fox Footy and Fox Cricket channels. He works on projects such as On the Couch and produces weekend games.
During lockdowns over the past two years, Sam has been working with his brother Josh on a podcast which they both love spending time on.
We asked Sam about his career and his memories of Grammar.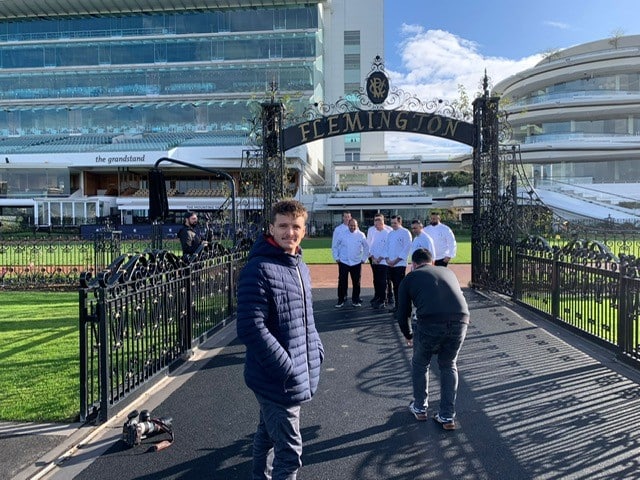 Tell us about your time at Grammar.
I enjoyed the community. It felt like most people, students, staff, and parents cared for each other. Whenever I think back to my childhood and teenage years, Grammar comes to the forefront of my mind. The memories and the people are things I will hold onto for many years.
I was involved in many sports at Grammar, including footy and athletics; I even tried my hand at table tennis for a term. However, one regret is that I did not do more performing arts. Grammar's Performing Arts program is excellent, and I would have loved to have experienced it.
What ignited your passion for your career choice?
I have always had an interest in the media. I started at Fox Sports after university, working on TV shows for both Fox Cricket and Fox Football. However, the opportunity to join TLA popped up, and I jumped at it. I feel as though I have always had an interest in being creative. So, working there really does tick a few boxes.
Can you share some key defining moments in your career/life?
I am most proud of what my twin brother Josh and I did in the lockdowns of 2020 and 2021. We both lost our jobs and moved back to Ballarat with Mum and Dad. Instead of sitting on our hands, we started an Instagram page for a virtual café. We went live every morning as a chance to build a social community for everyone in lockdown. From there, we have been able to start a podcast with Producer, a start-up media agency. It has been a thrill to be a part of. Check out the Bromley-Lynch podcast wherever you get your podcasts 😉!
How did Ballarat Grammar prepare you for your career? Did Ballarat Grammar or the wider community assist you in your studies or advancing your career?
Grammar helped me learn how to communicate, which is a massive part of my role. As a student, I was exposed to people from the city, the country and other world areas. It was an excellent grounding in communicating with different people from different backgrounds and learning that everyone has their own story, which has been hugely beneficial in my career.
What are your future career goals/aspirations?
The podcast and building that community is a high priority. Just being able to build a comfortable life for me while enjoying my work is all I could ask for. I have ambitions to be my own boss one day.
What advice would you give to current students or recent leavers?
Jump at any opportunities that the school makes available. In hindsight, I wish I had done a few things differently. And for those about to leave, realise that mistakes are meant to happen, and often the mistakes are where you learn most about yourself and what you want to do.
To share your story or if you know an Old Grammarian who has an interesting career or achievement, please email development@bgs.vic.edu.au