16 Jun 2023
Strictly Ballroom – The Musical
A life lived in fear is a life half-lived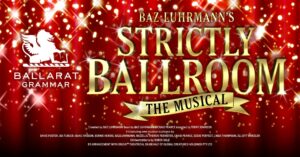 Ballarat Grammar presents Baz Luhrmann's Strictly Ballroom – the musical!
Our talented Middle and Senior School students have been working tirelessly to bring this captivating production to life. With a live student orchestra and an all-student cast and crew handling costumes, sets, and more, the stage will come alive with the inspiring story of two young ballroom dancers defying all odds to follow their dreams.
Featuring hit songs like "Love is in the Air" and new music by acclaimed artists, this feel-good musical promises a night of unforgettable entertainment. Join us as we celebrate the power of passion and dance!
Thursday 13 July – 7:30pm
Friday 14 July – 7:30pm
Saturday 15 July – 2pm and 7:30pm
Book your tickets here!